How Decorative Concrete Enhances the Resale Value of a Home
by David Hiatt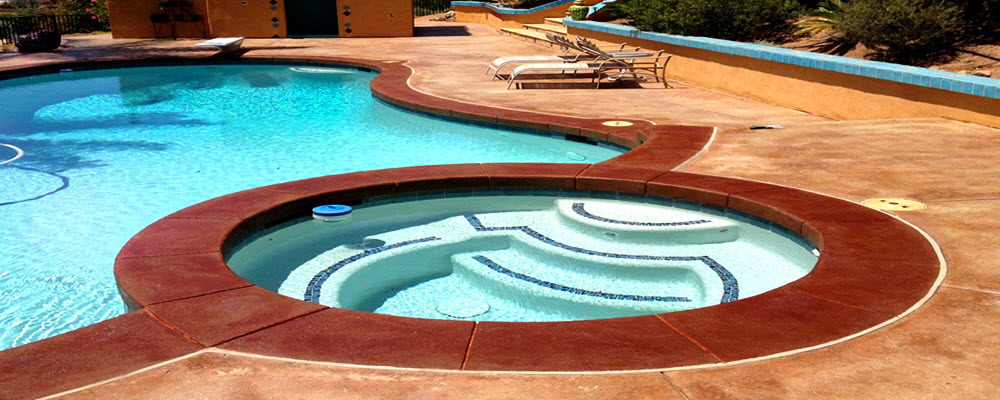 For those long summer days, your swimming pool is sure to be the central hub of activity in your home. When it comes to the design of your pool deck, however, it's often neglected and can become a mere 'frame' for the pool, rather than a feature in itself.
This report shows you why it's worth giving your pool deck more attention, and how you can transform your deck so that it's a showpiece of its own! With decorative concrete pool decking, you have a huge range of options available to you. Protect your pool visitors while you entertain them, with a gorgeous AND safe pool deck that keeps them coming back for more happy days splashing about in the sun. A custom decorative concrete pool deck is an essential architectural feature that is both attractive and functional, and can add significantly to the resale value of your property!
Don't forget, your deck can also be used to hide or disguise less attractive features of your garden or backyard, so giving some thought to the materials and layout is well worth it.
Did you know that decorative concrete is now one of the trendiest decking options available?
5 reasons why concrete enhances resale value
Here are 5 reasons why you should opt for a professionally installed, decorative concrete pool deck – learn how you can enhance your pool deck and increase the resale value of your home:
1. Decorative Concrete is both stylish and affordable
While durable pool decking used to be very expensive, now you have a wider range of options that make the process more affordable. Stone, granite and slate are on the higher end of the price spectrum, but decorative concrete decking gives the effect of these materials, without breaking the bank! The concrete can be poured and then a pattern applied afterwards – a far more economical option.
You can also mix areas of decorative concrete with areas of plain concrete, introducing your own creative style without the cost that comes with several other decking materials. Decorative concrete also complements any style of home, while blending seamlessly with the décor of your homes brick and trim.
2. The range of design options are endless
Plain concrete is a thing of the past. Decorative Concrete is a cost effective, modern and safe alternative to plain concrete while adding Style and Value! The different styles of decorative concrete allow you to transform your pool deck while staying within your budget!
Opt for the standard most economical option – Skim coat: a thin layer of Concrete that covers the entire deck providing a transforming appearance. This option fills in most cracks and can also level areas and fill in areas that pool water.
"Spray Knock Down" This option provides a textured orange peel finish to your deck and is the most popular. It can be integrated with other designs.
Acid Staining the old Concrete or New Concrete is option for people who want a antique or "marbled" look.
Stencil patterns can be used around the Pool Coping, Stairs, Ladders, and Diving board areas.
Texture Finish can also be used with Tile Patterns to create different looks and zones to the entire pool deck. These patterns can signify Kids Areas and grill areas separately.
The entire deck will be sealed with Deck sealer of the highest quality to provide durable and stunning color throughout the pool deck.
3. Impressive durability and strength
Decorative concrete lasts. Whether you plan to sell your property, or you are settled in your home for many years to come, a concrete pool deck is a clear and solid investment in longevity. Your family can be assured of a safe and durable pool deck, and any prospective buyer will be able to see the care that has been taken to create a lasting feature on the property.
4. Low maintenance
Your decorative concrete pool deck will need cleaning and resealing every now and again, but it is significantly easier to maintain than other decking materials. Bricks and paving units tend to move about out of place as time passes, requiring replacement or re-laying. Weeds can also grow between paving unit gaps – poured concrete has neither of these issues, once again saving you money and time.
When your decorative concrete deck is installed, ask your contractor to advise you on the best methods of cleaning and maintaining your deck to increase its overall durability and strength. Different factors will affect the need to add a new sealer – it depends how much sunlight or other extreme weather the concrete is exposed to, and how much the deck is used. Overall, however, your concrete deck will be surprisingly easy and affordable to maintain.
5. Safety First!
The textured finish adds slip resistance as well as a non-slip additive will be mixed with the finished sealer to add an additional layer of safety for you and your guests.
These are all examples of why a decorative concrete pool deck is the ideal choice for any modern home. With the range of options available to you, at prices to suit any budget, you can easily and efficiently transform your pool deck and create a stunning, safe environment in which to enjoy your swimming pool for many years to come.
---
About Coastal Decorative Concrete
Coastal Decorative Concrete offers decorative concrete and masonry services to residential and commercial clients in Tallahassee and surrounding areas. We specialize in handling projects with decorative concrete, including pool decks.
Contact Coastal Decorative Concrete today for a FREE, No-Obligation estimate and transform your dreams into reality!