Decorative Pool Deck Contractor in Gainesville, FL
"Gainesville's Pool Deck Specialists"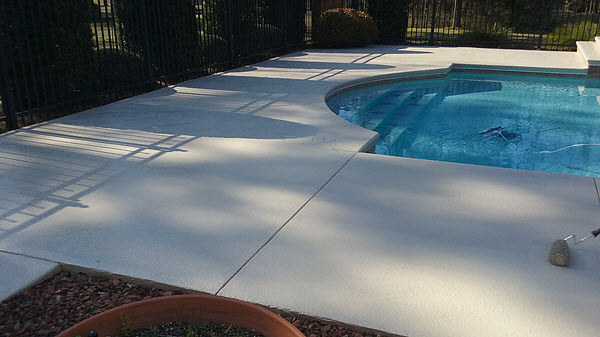 [ Ask About Our 10 Year Pool Deck Warranty ]
For a stylish, durable and modern pool deck that perfectly complements the appearance of your home, look no further than Coastal Decorative Concrete, based in Gainesville, FL. With our expertise, you are guaranteed a stunning decorative pool deck that meets your aesthetic as well as safety needs.
We offer a range of options for your decorative concrete deck, and we can custom-design your particular deck to suit your own unique style. You can choose from a gorgeous range of textures and colors to create a deck that is inviting, as well as safe and slip-resistant. With this addition to your swimming pool area, you and your family can relax, sunbathe or enjoy a barbecue in the Florida sunshine, at your leisure. Our decks are functional, unique and longer-lasting than more traditional decking materials such as slate or wood, and offer a new elegance to the decorative concrete construction style.
Reasons for choosing our decking services:
Concrete is more flexible than other decking materials
It provides an extremely durable surface
We use a wide range of techniques to incorporate a stunning masterpiece to match your existing look or to completely change what you currently have.
Our materials are affordable, but stylish and safe
Your concrete deck will merge seamlessly with the natural environment of your outdoor space
We guarantee years of enjoyment!
Contact us today for a FREE, No-Obligation estimate for a Custom Decorative Pool Deck, and transform your dreams into reality!
Custom Pool Deck Estimate
(FREE, No-Obligation)
We will not share your information with anyone!